June 6th 2004 : Fuel Leak
I backed the car out of the Garage this lunchtime, and wondered what the trail I was leaving was. Turned out to be fuel. Turned the engine off ASAP, and investigated further. The fuel was still dripping from the nearside of the car, from where the fuel pump resides. So I removed the cover.

I had to run the car for a few more seconds to start the leak dripping again. It was immediately obvious that the leak was on the return line to the fuel tank. Someone had had some problems in this area before, reasonably recently, as there was some new flexible fuel pipe fitted. Would have been even nicer if they had decided to tighten the new jubilee clips that they had fitted.

Tightened up the clips, started the engine to check for leaks, leak still there.

I then noticed that the passenger side handbrake cable was touching the return pipe, so I checked to see if that had fretted through the pipe. Again, this was not the problem.

Finally I twigged the rubber blocks inside the fuel pipe clips was an inch away from where it should be, and that someone had decided to tie the fuel lines together using stainless steel wire......

Looks like the fuel line has been cut through by the stainless steel metal clip fretting against the pipe. But it's a problem that will have to wait until later in the week, when I can investigate it further.

Here are a couple of photos of the offending area.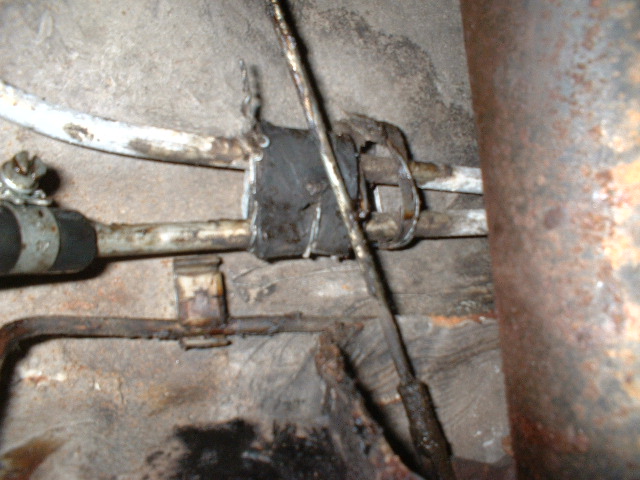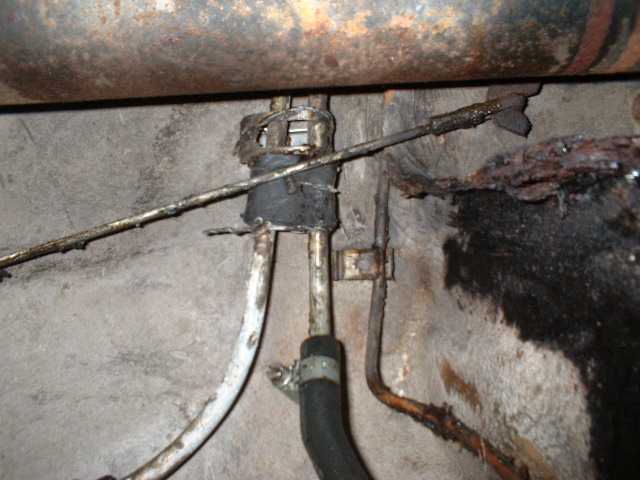 ---
Click Here to email me